New to our stores this month are Le Wand's vibrating wand massagers in both the "petite" and standard sizes.
We're pretty picky when it comes to massagers. It isn't often that we find something worthy of sitting next to the Magic Wand, so when we do we get pretty excited about it.
That's why this month we wanted to feature the Le Wand Rechargeable Vibrating Massagers by COTR, Inc., which also houses the well known b-Vibe and Cowgirl brands. Founder and CEO Alicia Sinclair is an accomplished sexual educator with years of experience in the sex toy industry, and her passion and knowledge is definitely expressed in her products.
We love the ride-on Cowgirl, not only for its power, but for its sleek, smart design choices.
A chic, boudoir-ready aesthetic sets the Le Wand apart from the average wand massager. The handles are made from a satin finish ABS plastic with a pearlescent effect and gleaming metallic trim. Both the standard and petite sizes come in two colours- the large in a soft grey or white with rose gold trim, and the petite in rose gold or violet. The buttons and wand heads are made from hygienic silicone.
Control of the wands is done with a clearly labelled three-button interface located on the handle, which includes "+" and "-" buttons that control the on/off and intensity of the massager, and a central "~" button that controls patterns of vibration. The petite has 10 vibration speeds, and 6 patterns, while the standard boasts 10 speeds and 20 patterns.
The Le Wands are rechargeable, with the standard and petite having a 3 hour and 1 hour battery life, respectively. They are not, unfortunately, waterproof, but do come with a 1 year warranty and lifetime guarantee. They are packaged with a sturdy zippered storage bag with a little handle, and a "multi-purpose" textured sleeve (really similar to a Tenga Egg), which can be used over the wand head or as a stroker.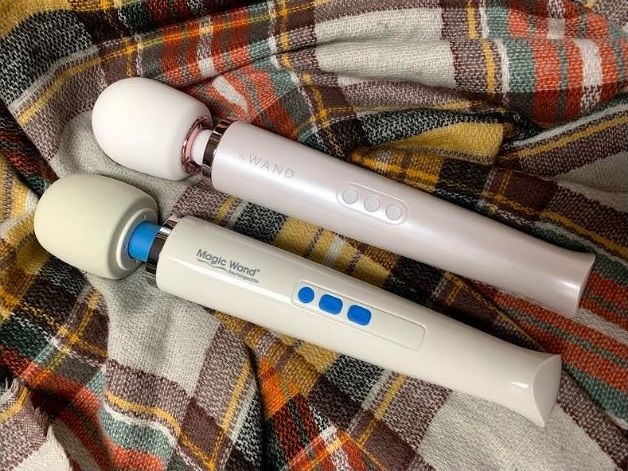 The Le Wand Rechargeable Vibrating Massager and the Magic Wand Rechargeable side by side.
The price point of the Le Wands lands in between the comparable Magic Wand Rechargeable and LELO Smart Wands, which lines up with it having slightly more bells and whistles than the Magic Wand (more settings, more glam, carrying bag, texture sleeve), but is not waterproof like the Smart Wand.
So, if you're in the market for a massager be sure to come by and check out our wand wall newcomer!