Tenga, the makers of the Iroha collection, are known for toy designs that are both cleverly functional and aesthetically pleasing. With its kimono silk-inspired pattern and unique case, the Temari accomplishes both.
With its lid on, the palm-sized Iroha Temari looks like a little white jewelry box. Its outer case is decorated minimally with a little line-art flower and a thin line of contrasting colour on the lip of the lid, and wouldn't draw any particular attention on a dresser or vanity- an attractive feature for those who value discretion in their sex toys.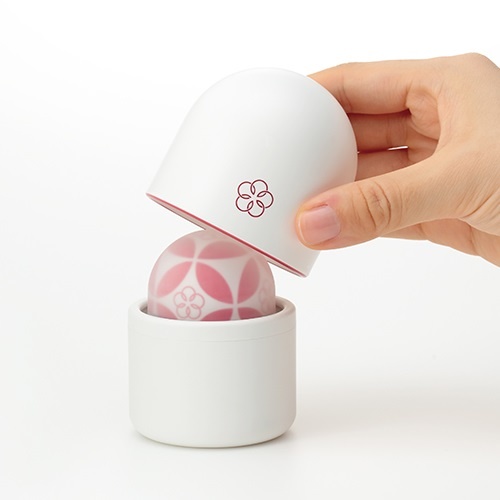 The domed lid of the Iroha Temari lifts off easily to reveal the surprise inside.
Even without its lid, the Temari's purpose isn't immediately apparent. Sliding the lid up and off reveals a velvety soft silicone sphere that appears to be half emerged from its case, decorated with one of three colourful patterns. The sphere is affixed to the base, suspended such that it flexes with movement similar to a joystick on a game controller, and sinks slightly into the base under pressure. At first glance, the Temari is intriguing, if mystifying.
Both the name and design of the Temari is borrowed from a traditional Japanese folk art. Temari means "handball" in Japanese. Often crafted from strips of recycled kimono silk, the balls were lovingly made gifts and playthings that, as the tradition evolved, became intricate pieces of beautiful, often symbolic art.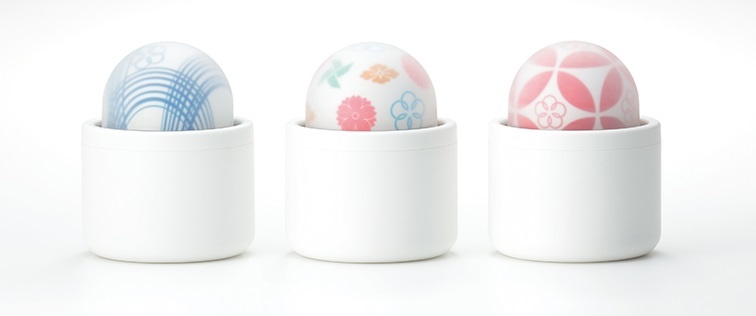 From left to right, the Mizu, Kaze, and Hana patterns.
According to Tenga, the Temari is intended to provide pleasure that is free of distraction, which it achieves by two means: being very quiet, and reducing the amount of vibration that resonates to the hand holding the toy.
This is achieved rather effectively by the suspension of the toy's contact point- the orb- within the outer casing. The result is that the movement of the motor's vibration is isolated to the part that touches the body, with the case insulating against reverberation to the holder. Vibrating handles that cause numbing and tingling hands are a common toy complaint, and Tenga's clever solution could be a game changer for those who have struggled with this issue in the past.
A single large, easy-to-press button on the bottom of the Temari turns the toy off and on, as well as selects from its six vibration settings. The toy is also waterproof up to 50 centimeters, which is great if you like to use toys in the bath or hot tub, and if you aren't into daintily dabbing your sex toys clean with a damp cloth when you're done.
If you're interested in checking out the Iroha Temari, come take a look at either LSOP location.