About Us
Meet the Owners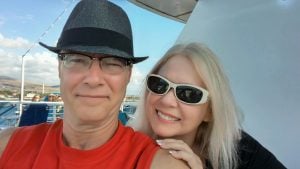 Chris and Don met in the spring of 1997 and started a kinky and wildly romantic love affair that lasts to this day.
Chris is an avid researcher and loves learning. She will talk your ear off about pleasure chemicals, win/win, love languages, and nutrition for sexual health.
Don, a professional musician for 25 years, is a voracious reader and loves to learn new things. He brings the energy, enthusiasm, and love of learning he had for his musical career to the customers of Little Shop of Pleasures.
About Our Business
Chris and Don love life and love helping Calgarians fulfill their sexy dreams. As Don is always saying: "I never have to go to work... I get to go to work". We attribute our success to our philosophy of winning not being getting money in the till, but when customers leave the store happy. Happy customers are repeat customers, so we take the business of pleasure very seriously.
We have come a long way in the last 15 years. Chris moved to Calgary from Ontario. After attending school and running two small businesses, she met Don, and within two years both were owners of Adam and Eve's Exotic Boutique. Chris's organizational skills and business savvy grew the business to 3 locations and 16 employees. Foresight and planning kept the business afloat and brought us through the recession and to the name change: Little Shop of Pleasures. We are stronger than ever!
Meet the Team
Cheri, Manager
I have had the amazing opportunity of being a manager at Little Shop of Pleasures. My mother (Chris Nelson) and her partner (Don Wilhelm) have owned this store since 2001, so I have always grown up in a very open-minded environment. I am grateful to never have had others people's prejudgments instilled in me. I believe if it is safe, sane and consensual, then we can help.
Sindi, Manager
I was already a long-time customer of the store for over 7 years when I started with Little Shop. I found that the staff were well educated about the products, it always had the best selection of toys, and I always found something new and exciting when I visited. The vast selection of Plus Size lingerie made it easy to always find something unique and sexy to wear. The customer appreciation program and great service kept me coming back.
Cathy, Assistant Manager
Hi I am Cathy. I am the Assistant Manager for Little Shop of Pleasures. I started working here about 7 years ago. I like to bring a light humor to our store environment in order to make customers feel comfortable to ask for what they are searching for. I work with wonderful people and help great customers, for a company that really cares. Everyday is a new adventure.
Cat
I have worked for LSOP since 2011 and love my job. I find it gratifying to help people and like that every day is different. Being able to help people find joy or solve an issue for them is really satisfying. I find the team wonderful to work with as well, and like that they are all supportive of each other's endeavors and challenges. I am also an artist, primarily in the medium of photography, and am currently working on a project about adult retail store workers.
Dee
Hello, my name is Dee and have been working in the sexual/intimacy industry for about 3 years as a sexpert. I previously worked for another Adult Store for 2 years and became part of the team at Little Shop of Pleasures in Sept of 2016. Before coming to work for Little Shop of Pleasures I thought I had a lot of knowledge when it came to educating myself and my customers about product and intimacy, boy did I ever fool myself lol. The knowledge I have learned from the 2 amazing people I work for now and my co-workers, is knowledge that I'm bringing forward to my regular and new customers here at Little Shop of Pleasures and my own sexual life experiences. I get great gratification when I have a customer that comes into the store whether they have had a bad day, never been in an Adult Store, shy and feel embarrassed, age, gender etc and I see a smile on their face when they leave, that is when I know I have helped that customer have a better day. Come on in and have a look around, have a question or just to say hello, look forward to seeing you. We are here to help make your sexual experience fun and memorable not to judge. 
Accolades and Awards
Have participated in more than 20 Taboo Naughty But Nice Sex Shows
Regularly attend Telus Spark's Adults Only Night events as guest contributors, speaking about the science of sex and demonstrating the newest technological advances in pleasure
Two time winner of the "Best place to buy a vibrator" Reader's Choice Award in Fast Forward's "Best of Calgary" poll
Boast the largest BDSM department in Calgary- part of a three-quarters-of-a-million dollar inventory