About Us
Meet the Owners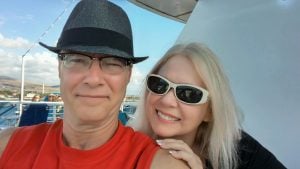 Chris and Don met in the spring of 1997 and started a kinky and wildly romantic love affair that lasts to this day.
Chris is an avid researcher and loves learning. She will talk your ear off about pleasure chemicals, win/win, love languages, and nutrition for sexual health.
Don, a professional musician for 25 years, is a voracious reader and loves to learn new things. He brings the energy, enthusiasm, and love of learning he had for his musical career to the customers of Little Shop of Pleasures.
About Our Business
Chris and Don love life and love helping Calgarians fulfill their sexy dreams. As Don is always saying: "I never have to go to work... I get to go to work". We attribute our success to our philosophy of winning not being getting money in the till, but when customers leave the store happy. Happy customers are repeat customers, so we take the business of pleasure very seriously.
We have come a long way in the last 15 years. Chris moved to Calgary from Ontario. After attending school and running two small businesses, she met Don, and within two years both were owners of Adam and Eve's Exotic Boutique. Chris's organizational skills and business savvy grew the business to 2 locations and 10 employees. Foresight and planning kept the business afloat and brought us through the recession and to the name change: Little Shop of Pleasures. We are stronger than ever!
Accolades and Awards
Have participated in more than 20 Taboo Naughty But Nice Sex Shows
Regularly attend Telus Spark's Adults Only Night events as guest contributors, speaking about the science of sex and demonstrating the newest technological advances in pleasure
Two time winner of the "Best place to buy a vibrator" Reader's Choice Award in Fast Forward's "Best of Calgary" poll
Boast the largest BDSM department in Calgary- part of a three-quarters-of-a-million dollar inventory