Chronic pain or physical disability shouldn't prevent a person from enjoying the benefits of self love. We look at some things to consider when shopping for a suitable sex toy.
Chronic pain makes holding my vibrator a challenge. What options are out there for people like me?
If you have chronic pain or a physical disability that affects your ability to hold or manipulate items, everyday stuff like brushing your teeth, opening doors, or checking your phone a challenge. It can also make masturbation and sex more difficult, though those things can be a lot harder to discuss with your doctor or physical therapist.
I can't tell you how many times I've unpacked a new toy and realised that I can't even imagine how it's supposed to be held. At a glance it can seem like options are limited for those who need more considerately designed vibrators, but if you know what doesn't work for you, figuring out what does isn't too hard to do. Everyone's needs, both in terms of their physical requirements and their sexual desires are different, which unfortunately means there's no "perfect toy" that I can recommend for you, but I can give you some things to consider when shopping for a vibrator that will hopefully make the task less daunting.
Struggle with small bullets?
If you're looking for a vibrator with a small contact area for pinpoint external stimulation but find tiny bullets hard to use, try something with a similar diameter and more length, like a pocket rocket, tapered rocket vibe, or a handled toy with a tiny stimulator, like the Zumio S or X. While teeny tiny bullets can be hard to hold in the fingertips, something with a bit more length can be gripped with the whole hand and provide better leverage.
Prefer palm vibes?
For broader, less focused external stimulation palm vibes (smaller vibes with approximate shape and size of a computer mouse) are a popular choice, but press them against the body can present a challenge, particularly for the wrists.
Another common name for this style of vibe is a "lay-on", because they can be used hands-free by placing them between your body and the mattress or pillow. Ideal candidates for this type of use would be vibes that have strong, rumbly motors that can compensate for the vibration energy that is dampened by the mattress, shapes that curve against the body, and a soft, rather than hard materials.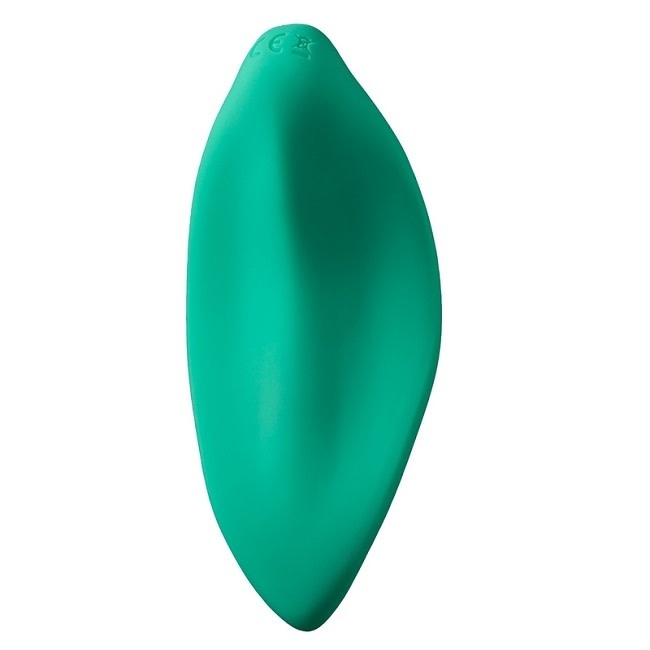 The ROMP Wave is a rechargeable clitoral vibe with a flexible body.
A wand vibrator with a palm sized head and a long handle that can be gripped with both hands could be a more comfortable way to achieve the same type of sensation, and are another popular alternative.
Insertable toys with better bases
With toys that are designed to be inserted into the body, a teeny little handle can make manipulating the toy really difficult. Toys with handles that are longer and wider, or with easy-to-grip designs like looped bases or finger holds could make using them less of a chore.
Soft vs hard shell strokers
Strokers, which are designed to stimulate the penis, are usually made of a soft TPE or TPR material that is designed to provide additional stimulation during masturbation. If gripping the penis during masturbation is difficult, using a soft stroker could be equally challenging. For some, a stroker with a hard exterior that works to keep the inner sleeve snug against the penis regardless of how tightly the toy is held could be a more satisfying solution. Fleshlight and Tenga both have extensive collections of strokers with firm external cases.
Large vs small strokers
On the other hand, some people find larger hard-shell strokers like the full-sized Fleshlights or the Autoblow line of toys to be way to large to hold securely. In this case a slenderer and more streamlined sleeve without an outer casing or a hard shell stroker with a more ergonomic design like the Tenga Flip Orb series could be beneficial.
Easier controls
Toys with electronic functions like vibration or suction can present unique challenges if their controls are not designed with accessibility in mind. Buttons or dials can be difficult to physically manipulate, and labels that are small/difficult to interpret/not identifiable with touch can make an otherwise ideal toy design unusable for many people.
If this is the case for you, keep your needs in mind when shopping for powered toys, and don't be afraid to let a sales associate know what kind of controls you need for your comfort and ease of use.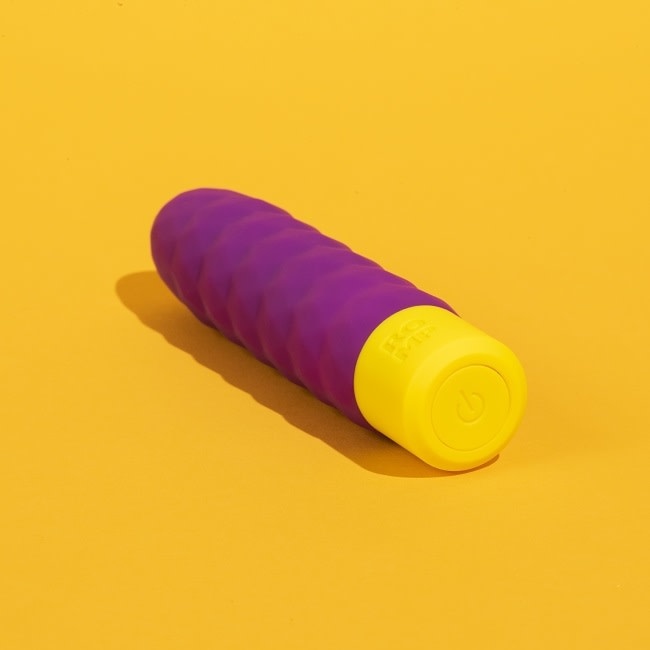 The Romp Beat's single, large button is located on the toy's base, and requires very little pressure to press.
Toys that can be controlled using an app on a smart device are becoming more common and more diverse, and can be another option for folks looking for more accessible user interfaces.
Better angles
For those who need toys that offer more reach or more ergonomic angles, there are companies who have taken this common complaint into consideration in designing their toys.
Angled wands like the Tantus Rumble Wand or LELO Smart Wands can be be held against the body in a more comfortable and natural position than a traditional wand vibrator, while Tantus and CalExotics both offer silicone dildos with comfortable handles that provide better reach.
A wand attachment used with a wand vibe can also provide added reach and easier positioning.
Hands-free
Toys that can be used fully hands-free can be another great option for those with physical limitations, and, as they are a popular and in-demand item, there are plenty of cool options to choose from.
The most common hands-free toys around are those with a suction cup base. They're easy to come across (our stores will have dozens at any given time), and are as easy to use as sticking them to a smooth surface like a chair seat or the edge of the bathtub.
Vibrating and thrusting toys with suction cups are becoming more common, with more modern offerings from Pipedream rounding out our catalogue.
Some companies even make suction cup holders for their toys, like Fleshlight's Shower Mount, which allows a fleshlight stroker to be suctioned to a smooth surface.
Large and high-powered sex machines and ride-on toys are another option, if you have the storage space (and very understanding downstairs-neighbours, hopefully).
Ultimately, there are a lot of options out there for folks in your position- it's just a matter of finding accessible toys that work for your individual needs and interests. I hope that this served as a jumping off point on your search, if nothing else- and remember, we're always here if you have questions!