This impressive sex machine made by Doc Johnson makes the fantasy of never ending sex a reality for the first time at a decided budget. Fucking machines are not a new thing, but Doc Johnson has made a portable and stylish option that you can take home.
American sex toy giant Doc Johnson recently collaborated with Kink.com to develop a new line of products for kinksters. Kink by Doc Johnson has already grown to include hundreds of items, of which many are special edition re-releases of extant Doc Johnson products sporting the Kink.com logo and their signature red and black colour scheme. A few of the items have stood out among the familiar lineup- particularly the Fucking Machines Power Banger.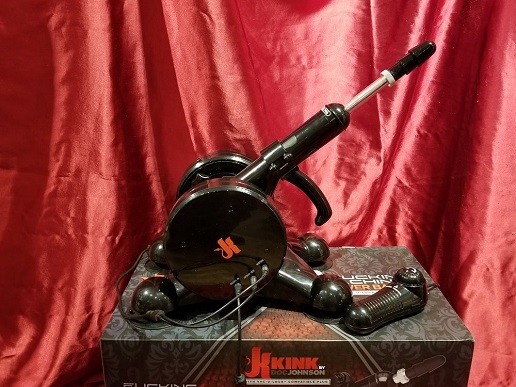 The Power Banger in its natural environment.
Sex machines have been around for years, in various forms, but few were of good quality, or a reasonable price, and fewer still were both. Luckily this has begun to change, and like most kinds of fancy, exclusive tech, the options have expanded, and become more accessible. We've brought in a few models over the last couple of years that have impressed us, including the Power Banger.
The unit is relatively small (about 16" x 9" x 7"), with a sturdy base that can be used as-is or with the addition of four, heavy-duty suction cups included with the kit.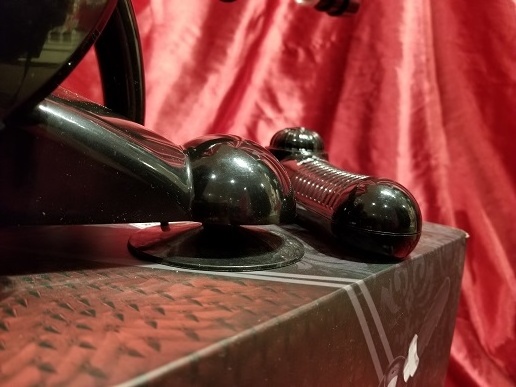 The suction cups screw into the four feet of the machine.
The adjustable arm has a 90° range, and can be set to the desired position and locked easily.
The arm is capped with a Vac-U-Lock plug, a proprietary Doc Johnson invention that allows a wide range of Vac-U-Lock compatible toys to be attached to it with little fuss.
Once plugged in to the wall, a wired controller with a simple dial is used to determine the machine's movements. The thruster arm has a throw of 2.36", and an adjustable speed that clocks at up to 195 strokes per minute. Adjusting the length of the arm's reach is done easily with the help of the Extender Set (sold separately).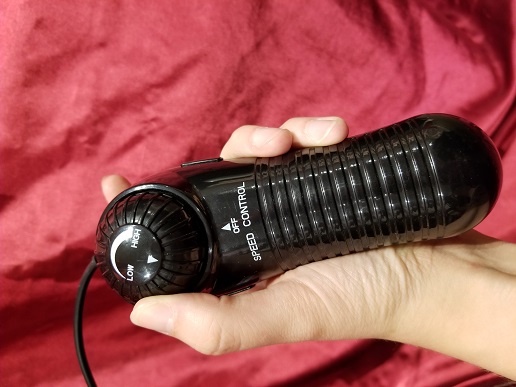 The easy-to-use controller has one, clearly labelled dial that controls the speed of the Power Banger's strokes.
No toys are actually included in the kit (which is a bit of a bummer), but with several attachments that are designed specifically for the Power Banger, and a sprawling catalogue of other Vac-U-Lock toys available, finding something to fit one's preferences isn't hard. Two kits that we have currently available offer penetrative and penetrable toys to suit the desires of nearly anyone.
If owning a sex machine would bring your porn-inspired fantasies to life, the Power Banger may be just the ticket.
To see the Power Banger in action, check out our Macleod Trail location, where our demo spends most of its days, or visit us at the upcoming Kinky Flea Market or Taboo Shows, where it usually makes an appearance.