The Zumio is a unique clitoral stimulator from a newly formed Canadian company.
*** Editor's Note: In 2019, Zumio released the Zumio S, and renamed their original toy the Zumio X. Check out our feature on the Zumio S here.
Delivering intense stimulation to the clitoris (or any erogenous zone) with pinpoint accuracy, the Zumio is a newcomer to the luxury toy scene that is making waves. This petite oscillator is designed to be held like a paintbrush, giving the user precise control of the placement and pressure of the toy's head.
Zumio is perfect if you want the power of the Magic Wand, but want more pinpoint precision in your pleasure. The small head can be used for specific small areas and the hard plastic shaft can be used to stroke and tease around any area of the body.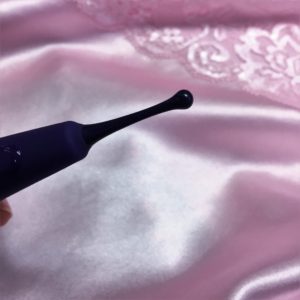 The tip of the Zumio, pictured above, is approximately 5mm in diameter.
This waterproof toy is made from high quality and body-safe ABS plastic and silicone, and charges atop the included stand which clearly displays the charging status via an LED indicator.
This step-by-step instruction guide explains how to use the Zumio, starting by giving the clitoris a wide berth before zeroing in on the nerve cluster as arousal mounts. The pinpoint surface area of the Zumio's head and the intensity of the sensation its rapid oscillation delivers on contact can be too intense for many, especially early in a play session.
When people come into the store asking for a toy that stimulates with pin-point accuracy, this is now the toy that we show them first. And if someone is looking to expand their toy collection with something that feels completely unique, they need look no further than the Zumio.