"Oh my God, where did you possibly get such a beautiful flogger?!"

"NoirLuna Leather, her work is absolutely stunning!"

"Who and what is NoirLuna?"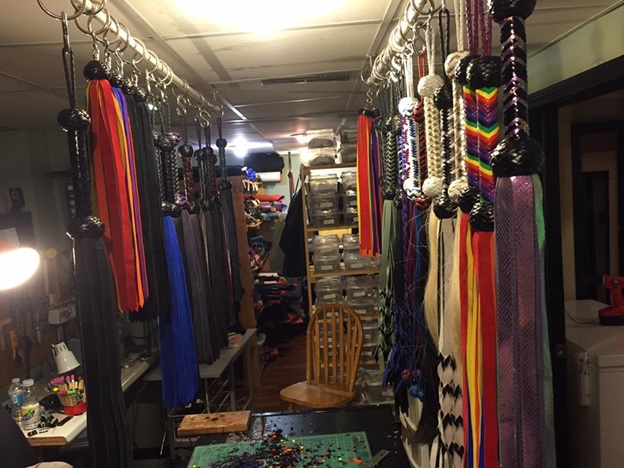 NoirLuna's Edmonton Studio.
NoirLuna Leather, also known simply as NoirLuna, describes both a small independent leathercraft business and the talented artistan & kinkster behind the sumptuous leatherwares situated Edmonton, Alberta. She has been crafting and selling her wares since 1998, working from a tiny studio space filled to the rafters with a rainbow assortment of leathers, tools of the trade, and every type of bondage toy to keep her company.
NoirLuna grew up in the middle of nowhere (a.k.a. Regina, Saskatchewan… poor thing) and spent many "bored" hours being baby-sat by grandparents. What do you do with a bored five-year-old? Well, give them something to do, obviously... so she learned how to sew, knit, do woodwork, and other hands on, crafty sorts of things under their supervision… Well, except one time… (Her advice: don't teach eight-year-old kids to use glass cutters and then leave them unsupervised… GRANDPA). Eventually, NoirLuna progressed from stitching cushions and found her calling: leathercraft.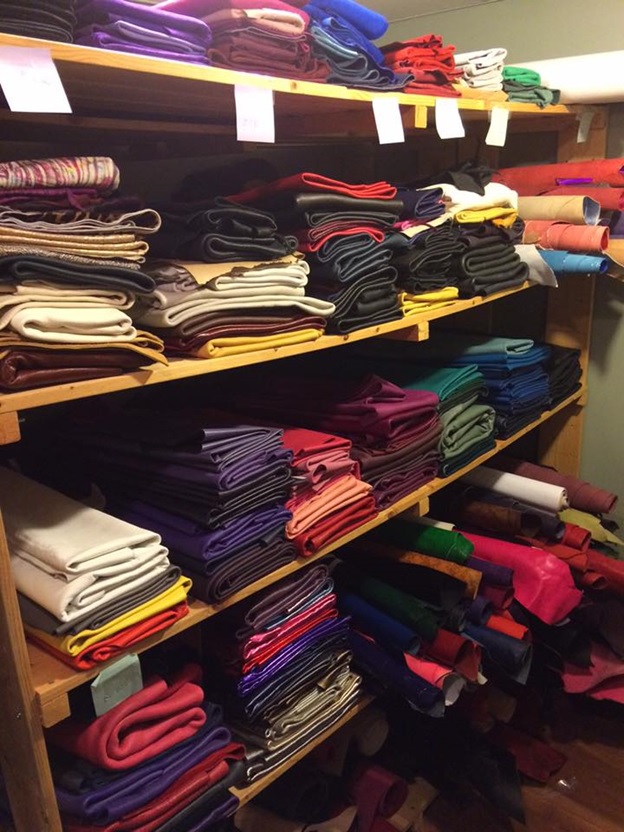 Neatly folded leather and suede, destined to become artisanal BDSM gear.
As a precocious and kinky nymphet, NoirLuna began honing her craft at age 19 for a very simple reason – she couldn't afford to buy all the wonderfully wicked toys and torture implements of her hearts desire, and decided to make her own toys instead. It wasn't long before she received requests for custom work from friends, and then friends-of-friends would see her meticulous craftsmanship, and want a piece of their own. Word of mouth slowly began to spread, earning NoirLuna Leather a reputation with International acclaim throughout the fetish community today.
NoirLuna Leather travels from her home-base in the "The Big E" of the Canadian Prairies to attend as many fetish and lifestyle-related events she can possibly manage, always with a voracious appetite to learn and grow… as well as scoping out potential ideas for new toys, of course! NoirLuna also endeavors to give back to her community offering workshops and seminars, elaborating on topics such as negotiation, aftercare, and safe, sane, & consensual play.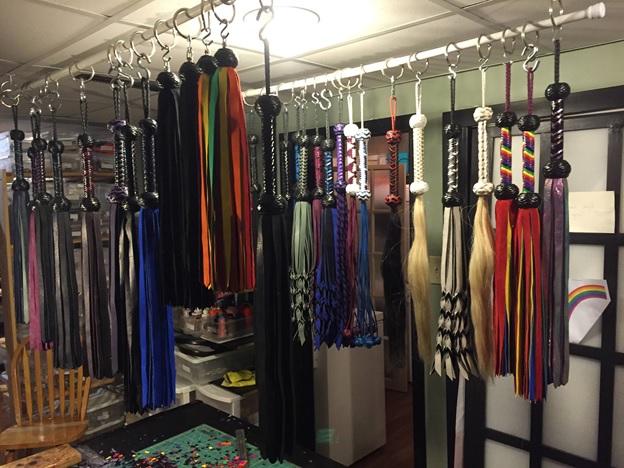 The beautiful finished product.
NoirLuna's stunning leather work and unique custom designs are characterised by their brilliant colours and fine detailing. From sturdy belting to fine garment leathers, the materials used in the construction of each piece are hand selected to best compliment the type of tool or gear being created. The selection of pre-made floggers displayed on her website and available at local markets showcase the variety of materials and finishes NoirLuna Leather can produce. Every flogger has a counterbalanced handle for smooth ease of use, and takes roughly 8-12 hours to complete a SINGLE PIECE.
What really makes the artisan's heart sing is facilitating a client's leather fantasies through custom work. When I say custom, it really doesn't get any more personal and unique than a NoirLuna Leather toy. Her skill is quite evident in the intricately plaited handles with over 30 colors and 10 braid patterns to choose from. Whether your choice is a thuddy cowhide suede, sparkling metallic garment leather, soft and luxurious rabbit fur, the stingy swish of horse hair, exotic hides such as deer, moose, buffalo, or the supple and "buttery" caress of elk (our personal favourite!) – it's obvious there is so much love skived into each leather fall. Variety is the spice of life so of course, the artisan also offers different finishes on the tips of the falls including square, rounded, angled, forked, and a step further is the braided cat o' nine tails, or latigo leather lace finished plainly or braided into fist-knots. NoirLuna also offers rubber falls as a vegan option, but fair warning: the bite of these babies is not for the faint of heart.
The repertoire of NoirLuna Leather toys isn't limited to floggers. One-of-a-kind pieces, custom bondage, crops, canes, paddles, gags, leather hoods, and unique tooled leather notebook covers are also available for purchase on her website. The made-to-order collars and restraints use the highest quality hardware available- stainless steel hardware welded closed that won't split under pressure, and when additional strength is required, screw rivets, stitching, or both are used in place of standard rivets.
NoirLuna Leather takes great pride in every single piece of work, refusing to sacrifice quality and taking added care to ensure every item is durable and will stand up to real-life play. If a product fails under normal use, she will either repair or replace at no cost.
If you are hunting for that special, one-of-a-kind piece of leather gear for your fantasy, I highly recommend paying NoirLuna Leather a visit at the upcoming A.S.K. Kinky Flea Market to have the opportunity to see her amazing work in person, and talk to her about her passion.