The Trinitii is a 3-in-1 stimulator not for the faint of clitoris.
Clitoral air pulsators have been around for a few years, and while the technology has improved greatly since the release of the first Womanizer, the basic function of this style of toy has remained largely the same. This was why I wasn't prepared to be completely shook when the demo for the new nü Sensuelle Trinitii was passed to me at our most recent staff meeting.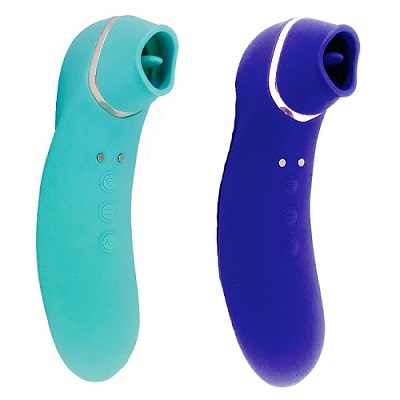 The Trinitii's two colours, Ultra Violet and Electric Blue.
At a glance the Trinitii is pretty, if somewhat ordinary, with a slim, modern shape in a choice of two colours (a purple and teal called Ultra Violet and Electric Blue, respectively). The cup looks a little too much like a mouth, with a contoured opening that resembles parted lips and a little silicone tongue. But hit any button and it's pretty obvious that this toy is in a whole other league.
The toy's three functions are controlled independently by three buttons lined up within thumb's reach on the curved handle. The topmost button controls the up-and-down flicking of the tongue, which can be done at four different speeds. While the visual is decidedly less impressive than a wheel of tongues, the effect is much the same.
The next button controls the 7 modes of suction, which, even at the lowest level, are stronger than any other air pulsator that we carry. Seriously strong. Like, really, really, crazy strong.
The last button, marked with a little squiggly, controls the 15 speeds and patterns of vibration. Though the most commonplace of the three functions, the vibration is nothing to scoff at. Like other nü Sensuelle toys, the Trinitii's vibrating motor delivers vibration that is strong and rumbling, and stand on their own with or without the other functions.
The Australian-based nü Sensuelle was founded in 2010 by Canadian engineer Thao Luu-Brinberg and her husband, Barry Brinberg, and has been producing toys that have stood out as both unique and high quality since they hit our radar a few years ago. The past few months have seen releases from the company that have been truly impressive, and the Trinitii has only strengthened their place as one of our favourite toy makers.
So if you are looking for a clitoral stimulator that MEANS BUSINESS, come by our stores (or our booth at the upcoming Edmonton Taboo Naughty but Nice Sex Show!) and check out the new Trinitii by nü Sensuelle.