Little Shop has always prided ourselves on supporting other Canadian businesses by bringing their quality products to our customer base. For this reason adding Fuze's line of Canadian designed, American made silicone toys to our store was a no-brainer.
Fuze (Happy Valley Silicone Inc.) is a company based out of Ontario, that, in a short span of time, has grown from a small business run out of the founders' home in Peterborough into an internationally sold brand known for their top tier designs and commitment to environmental sustainability.
Made using medical grade platinum silicone, their line of toys was developed to fill the need for body safe and hypoallergenic toys at a time when there was a huge gap in the market. As the benefits of silicone over other flexible toy materials started to become more well known, and safer, longer lasting silicone toys began to become more common, Fuze managed to stay relevant by being ahead of the curve when it comes to toy design.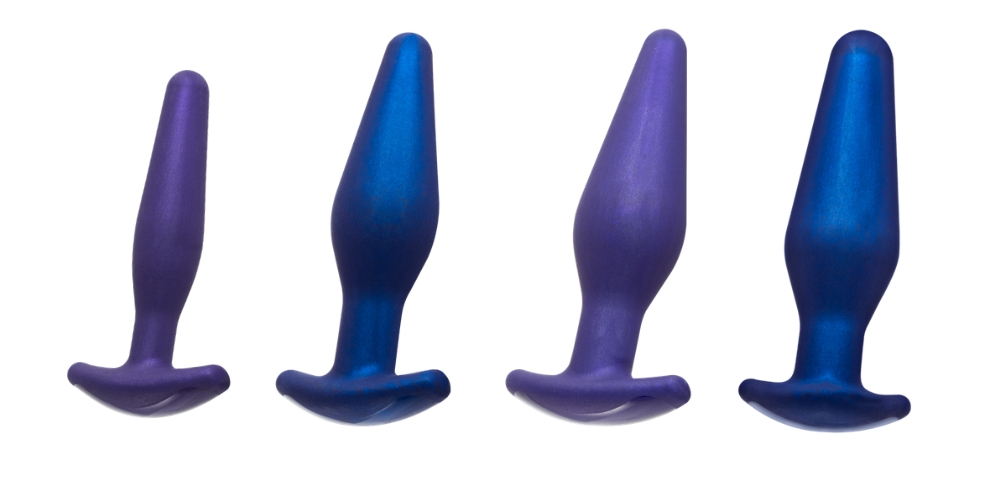 Fuze's Butt Plug Collection, sizes 1 - 4.
In addition to classic styles of toy, like their four sizes of classic tapered butt plug, Fuze is responsible for a couple of cleverly designed lines of toys that tweak familiar shapes to improve their usability.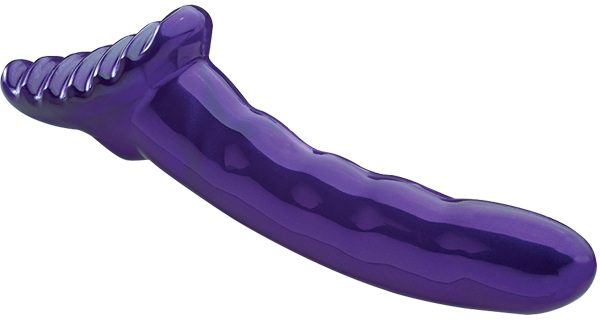 The Fuze Harmony Dildo in Purple.
One such line is their harness compatible dildos, which alter the traditional circular flared base into a contoured shape that hugs the pubic bone, setting the toy at a more realistic angle and improving comfort and sensation for the wearer. The base has a rippled texture that reduces movement in the harness and increases friction against the clitoris, and a bullet channel on the underside of the shaft allows a vibrator to be added for increased sensation along the entire toy.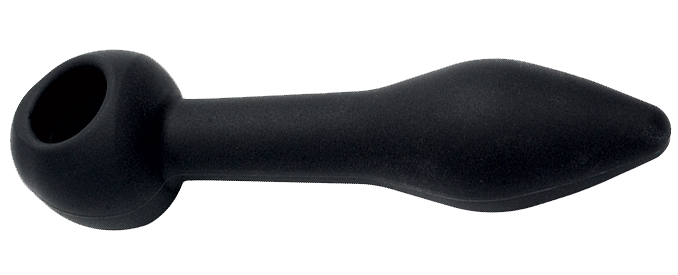 The Fuze Sol bullet compatible butt plug.
Another of their distinctive designs are their Vibe Compatible Butt Plugs, a line of butt plugs with looped bases that can be used as a finger grip or to hold a standard-sized bullet vibrator to convert the solid silicone toy into a vibrator. Not just handy during use, the option of using a removable vibrator means that the silicone plug can still be sanitized by boiling, unlike a toy with built-in mechanics, but also means that a single vibrator can be used in multiple toys, reducing cost for the customer and reducing the impact on the planet.
Since the early days, Fuze has committed to protecting the environment. This commitment has guided their growing business in every facet, from how they run their facilities to their manufacturing, packaging, and shipping methods. Through converting to renewable energy have reduced their own carbon footprint significantly, and have achieved neutrality in water usage. 
"Fuze is well on the way towards carbon neutrality and the ultimate goal is to feed clean power into the National Grid to even help offset other people's energy use." -- Fuze - Environmental Commitment
Fuze also supports the environment by acting as environmental stewards of a protected wetland.
Seriously.
Shopping ethically is hard, which is why I can't get over how many boxes Fuze checks for my guilty millennial conscience. Fuze is walking the walk when it comes to environmental conservation, and on top of that are creating products that are some of the best available in their industry.