The new Gvibe² is a Jack of all trades. With a unique design that bisects the shaft of the traditional G-spot vibrator in two, the Gvibe can be used in several different ways that take full advantage of the toy's flexible twin appendages
I like FunToys' Gvibe because there is nothing else like it at Little Shop- and with an inventory as large as ours that's actually a pretty impressive feat.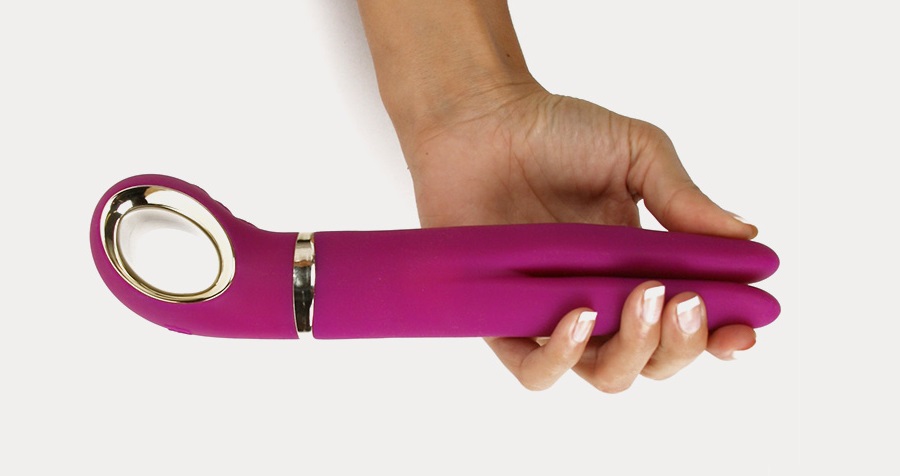 The Gvibe² begins with a looped handle, which allows for a secure grip and also places the three-button interface in reach of the thumb during use. A "+", "-", and function button control the power, intensity of vibration, and cycle of six vibration patterns. Just beyond the metallic ring that delineates the insertable portion of the toy is the first of three powerful motors. As the shaft splits, the silicone flares into two points that curve out and open like palm fronds. The other two motors are located in the tips of these two lengths.
The most popular and straight forward of the possible uses has both pieces held together and inserted into the vagina like a conventional vibrator would. The two halves are under tension to return to their original position, and have the effect of creating a sensation of fullness that doesn't stretch the sensitive vaginal entrance and conforms to the shape of the user's anatomy.
Fun Toys provides some helpful graphics (pictured below) that depict other ways the Gvibe can be used by both vagina and penis owners, including using the two halves on either side of the penis, scrotum, or throat during oral sex, and as a dual-style vibrator that stimulates the vagina and clitoris, vagina and anus, anus and perineum, both nipples, or the pleasure zones of two individuals at once.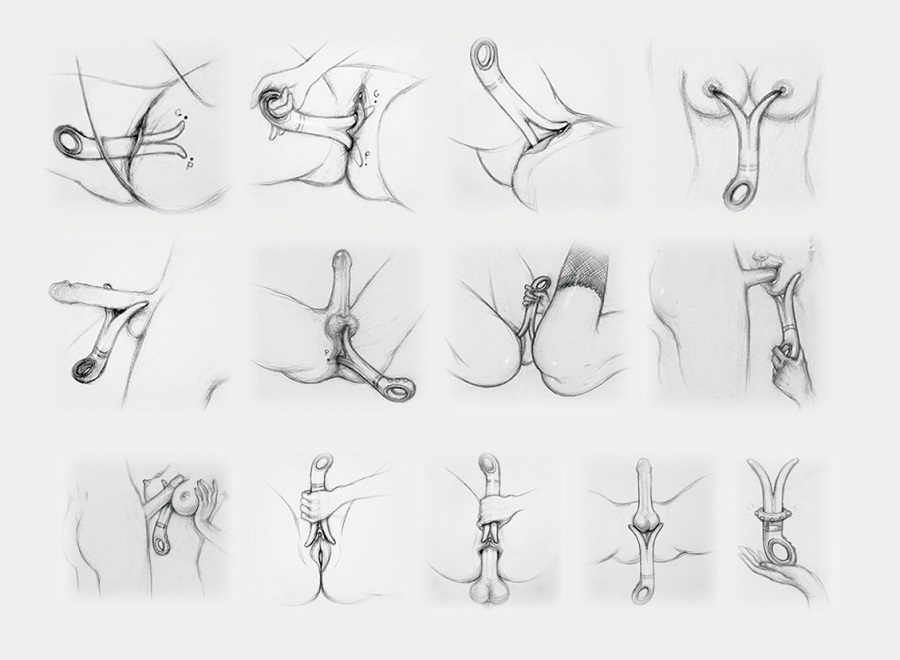 The second generation of Fun Toy's popular Gvibe, which debuted in 2012, the Gvibe² features upgrades that include the addition of a third motor, located in the lower shaft of the toy where the two halves meet. It also now employs magnetic charging technology, is completely waterproof, and has a new travel lock function (accessed by holding the "on" button for two seconds). Like ever, the soft material of the Gvibe² is medical grade silicone.
If you value versatility in your sex toys (and who doesn't) come check out the Gvibe² at either LSOP locations, or on our website.