We know companies are always throwing around phrases like "first," or "revolutionary," or "game changer," and after years of big promises with little pay out, it's become hard to get excited about the latest next big thing. In an industry saturated by lots of the same, we have to ask ourselves, how different can these new sex toys really be? Well, for the first time in a while, we are thrilled to say that something has hit the market that actually lives up to the hype.
If you've been in store lately (or bumped into one of us in line at the bank or out walking the dog- we're pretty keen) you've probably heard all about our latest addition to our ever expanding toy catalogue, The Womanizer [Editors Note: As the Womanizer W100 has been discontinued, this link now navigates to the Womanizer brand section of our online store, where the latest products from Womanizer can be viewed]. The Womanizer hails from a newcomer to the industry, German company epi24 GmbH. Names are not their forte, I'll admit, but we're willing to forgive that.
So, what is it?
Though it's hard to classify the Womanizer more specifically among traditional toys, it is a clitoral stimulator- and an incredibly effective one at that. Not a vibrator, mind you- and not even a clitoral pump, although it does borrow some of the principles of such. We feel confident in saying that it is truly unique and unlike anything else you have in your toy box.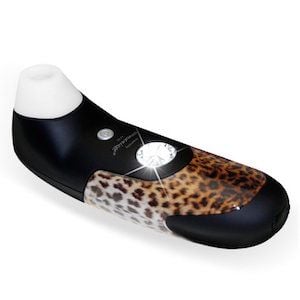 The Womanizer W100 in "Black Leopard"
The Womanizer looks a little bit like an ear thermometer, but with a lot more bling. The toy is comprised of the body, which acts as the handle and houses the inner mechanisms of the toy, and the business end, called the "treatment head". The treatment head, made from soft and supple silicone, forms a cup, the edge of which is placed around the clitoris.
Now the magic begins
With a touch of the power button, the toy fires up, and a gentle, but persistent suction forms a seal around the sensitive bundle of nerves. Tiny fluctuations in intensity create a pulsing stimulation of the now fully erect clitoris, and a wholly unique sensation takes hold. It could be compared to a lover sucking on the clit, but even that isn't entirely accurate. The toy is only touching the area surrounding the clitoris, and the pleasure point itself is being stimulated by air pressure alone, which not only leads to sensation unlike anything else, but also prevents over-stimulation of the clit, something that can really put a damper on your orgasm.
The story goes that in product testing, 49 out of 50 women reached orgasm with The Womanizer, and that 26 of those women did so in under a minute. And we believe them. Oh my do we believe them. Now keep in mind that most studies seem to agree that only 50% of women regularly achieve climax during sex, and you'll probably understand why we're so excited. We love The Womanizer in store because it is a toy that is going to thrill people of all experience levels and interests.
For someone who struggles with self-pleasure, or has difficulty achieving orgasm, The Womanizer is a great tool for training your body and mind. For those into harder play, The Womanizer may even- it feels almost blasphemous to say this- replace the Magic Wand as a forced orgasm tool.
The verdict
We just can't emphasize enough how much we love this toy. As people who have tried so many toys that they blur together, the Womanizer stands out in the crowd. What is does is not only unique but overwhelmingly effective. From a sellers perspective it gives us great peace of mind-we feel confident that anyone with a clitoris will be happy with their Womanizer purchase. Our only complaint is that it's too good at its job- long, romantic buildup is not going to happen with this toy. Luckily, you don't have to take our word for it- come check out The Womanizer demo in store, and see for yourself.
The Womanizer is what we would consider a luxury toy, at $230. It is lithium ion battery powered, and fully rechargeable using its included USB chord. It is made from medical grade silicone and ABS plastic, and is completely free of phthalates and latex.
For more details on the Womanizer, check out our Little Shop of Pleasures, or come visit us in store!