The following is the Ask LSOP #25 question and answer, as featured in the Little Shop of Pleasures March 2018 newsletter.
I'm self-conscious about the size of my penis, is there anything that I can do to make it bigger?
Firstly, unhappiness with the size of one's penis is an incredibly common sentiment. This dissatisfaction is perpetuated by an industry that generates millions of dollars by convincing people that their bodies are inadequate and harnessing that shame to create consumers willing to spend money to resolve a "problem" that doesn't really exist.
If your self consciousness is internal, consider that your feelings are shared by millions of other people, and that your body, if it is healthy, cared for, and helps you experience pleasure, is not only good enough, but great. If these feelings have come from a partner's having expressed negative feelings about your body to you, you deserve better.
Secondly, with a healthy understanding of how feelings of shame about penis size are something to combat on both a societal, economical, and individual psychological level, there is no reason that we shouldn't be able to explore sexual experiences enhanced by safe and healthy products or practices. LSOP offers a variety of products to help enhance anatomy; more permanent physical changes or medications should be discussed with and administered by a doctor.
Enhancement sleeves or extenders come in a variety of shapes and sizes, as well as materials. Worn over the penis, these products can help add length and girth, while prolonging erection.
Much like a cock ring, these products can be very stretchy, and are more stable when anchored around the scrotum. The gentle restriction of blood flow around the testicles and base of the penis can help intensify orgasm, as well as prolong erection. Additionally, like cock rings, lubricant is recommended to aide in comfort. An added feature of an enchantment sleeve is the option of a closed-ended product, that will allow ejaculate to collect in the reservoir. This can help make clean up easier. These sleeves can also provide additional texture, for both the giving and receiving partners.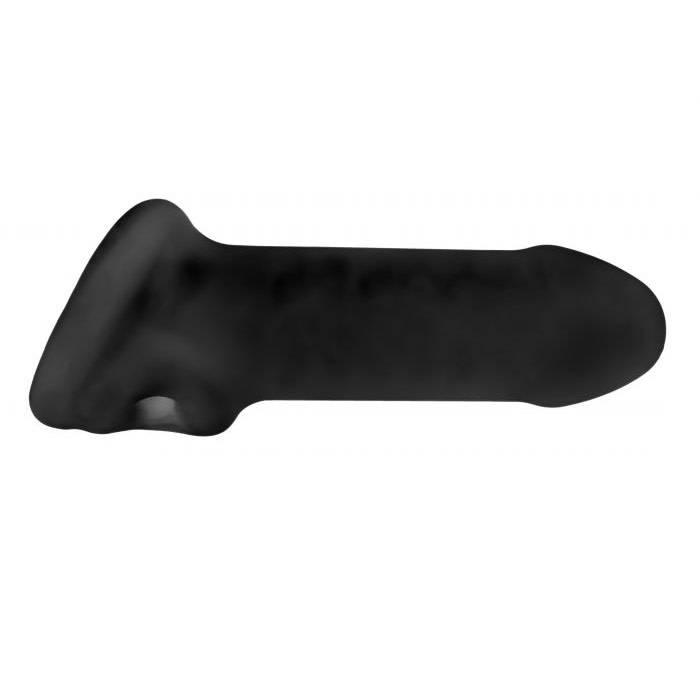 The Fat Boy Thin Stretchy Cock Extender, by Perfect Fit, is among our best-selling extenders.
A hollow dildo is also a viable option. Typically, these products are worn along with a harness, for added stability. This is a great alternative if you are looking for a firmer material, or a significant addition to length.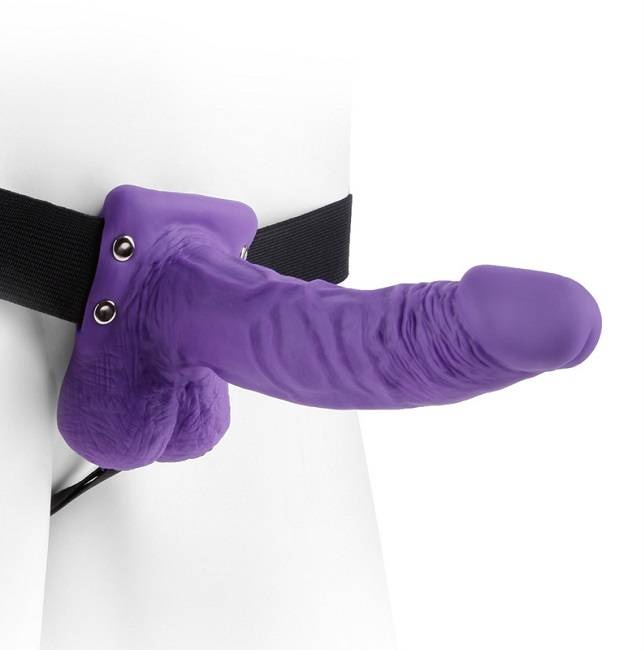 The Fetish Fantasy Series 7" Hollow Strap-On with Balls, a wearable hollow strap-on.
Penis pumps can be another tool that can change the look and feel of an erect penis for the duration of that erection. Pumps work by creating a vacuum around the penis that helps to draw blood into the erectile tissue. Once the desired effect is achieved, the pump is removed, and the user has the option of putting on a cock ring, which can help maintain the erection during a sexual experience.  Its important to note, however, that regardless of how a penis pump is advertised, no pump will make a penis larger over time.
Hopefully this information was helpful to you.
Thanks for the question!
Interested in appearing (anonymously) in the Ask LSOP section of next month's newsletter? Submit your questions about relationships, sex, adult toys, or lingerie, and our team of sexperts will find you the answers! Email your questions to [email protected] with the subject header "Ask LSOP".