The following is the full Ask LSOP #19 question and answer, featured in the Little Shop of Pleasures September 2017 newsletter.
Dear LSOP Experts,
I'm a mom of three, and pelvic floor strength (or a lack thereof) is something that's on my mind lately. What are the best kegel exercisers for a person in my situation? I want to be able to jump on the trampoline again!
— C
Hi C!
You've probably already gathered this, but you are so far from alone!
To bring everyone up to speed, the pelvic floor is an important group of muscles and connective tissue found in all human bodies. Sometimes called Kegel muscles, after Dr. Arnold Kegel, they form a sort of saddle under our pelvic bone which serves several important purposes, including supporting the abdominal organs and controlling urinary and fecal continence. These muscles are also the epicentre of the contractions experienced during orgasm, which is why having strong, healthy Kegels means more sensation and stronger climaxes.
As we age, the strength of our pelvic floor muscles  weaken- just like any muscle group can. This weakening can be exacerbated by things like childbirth or injury, and because many people aren't aware of their pelvic floor in the same way they're aware of say, their bicep, often this weakening will go unnoticed until symptoms become apparent. The most common symptom, especially for those of us with vaginas, is some level of urinary incontinence, although in extreme cases, prolapse can occur, requiring major surgery to repair the damage.
The best way to prevent, or even reverse these symptoms is through exercise of the pelvic floor! This can be done without the help of Kegel exercise devices- the Canadian Continence Foundation has a guide for men and women looking to exercise their pelvic floor here– although many people find the assistance that these devices provide to be extremely helpful.
For people with vaginas, the options are ample, but I can't say that any single device is the "best"; everyone's body, lifestyle, and personal preferences are different, and what's best for your friend may not work for you. What I can do is give you a run down of our best selling Kegel exercisers, and hopefully you'll be able to find the one that helps you get back up and bouncing.
LELO Luna Beads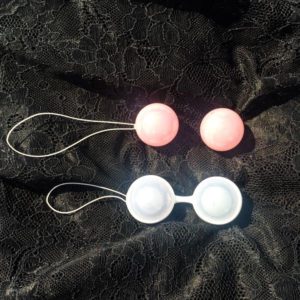 These awesome sets are our top selling Kegel exercisers, and a perfect option for when you're too busy to focus on doing your daily Kegel routine. Luna Beads are duotone balls, a type of exerciser that strengthen the Kegel muscles using both weight and the the kinetic energy of the wearer's own movement. The classic and Mini Luna Beads come with a set of four interchangeable balls, and a silicone holster. Each of the "beads" are weighted by an interior ball, encased in the sealed ABS plastic case. As the wearer moves, the interior ball impacts against the walls of the bead, prompting the muscles of the pelvic floor to contract involuntarily. They're recommended to serve as a part of a complete pelvic floor health regimen.
LELO Luna Smart Bead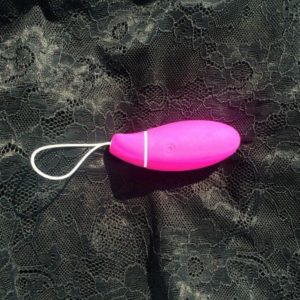 The Luna Smart Bead is a little bit more interactive than the original Luna Beads. This silicone-coated vibrating egg guides the user through an exercise routine by buzzing to indicate when to contract and release the pelvic floor muscles. A built-in computer remembers your strength and accuracy, and adjusts the difficulty of the next routine accordingly. The exercises that The Luna Smart Bead helps the wearer to complete are the same style usually prescribed by a physiotherapist or physician, and when used every day constitute a complete Kegel exercise regimen. It's worth noting that the vibration of the Smart Bead isn't terribly strong and wouldn't be enough to stimulate pleasurably for many people.
We-Vibe Bloom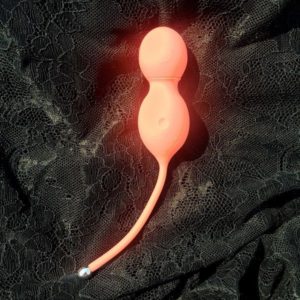 The We-Vibe Bloom is a newcomer to We-Vibe's lineup and our stores. Like most of their toys, the Bloom is Bluetooth enabled and syncs with the We-Connect app, which is available for android and IOS devices, and allows more control of the intensity and functions of their vibrators, and also gives the user the option of sharing control with a partner who also has the app. The Bloom does two jobs- it acts as a wearable, app controlled vibrator (à la The Ugly Truth), and the second as a weighted Kegel exerciser. Three interchangeable weighted bulbs (one 10g, one 30g, and one 45g) can be screwed into place, allowing the user to customise their experience to their needs.
Nectar Products Gemstone Vaginal Weight
This newcomer to LSOP isn't yet on our webstore, but is available at both Little Shop of Pleasures locations. This simple weighted insertable is very similar to the jade egg, an antiquated vaginal weight that has seen a resurgence of interest recently. We don't carry vaginal insertables without retrieval cords as a store policy, so we were very excited to find the Gemstone Vaginal Weight by Nectar Products, which features a sturdy loop that allows for worry-free retrieval. Each weight is made of beautiful, authentic semi precious stones, carefully polished and sealed for safety and peace of mind. Unlike the other devices discussed, which are designed so that most people with moderate pelvic strength will find their body holds them in much like it would a tampon, a conscious effort may be required to hold this weight in the vagina, making the exercise derived from using one more like a bench press than an aerobics class… pelvic-ly speaking. These popular devices are also employed as part of disciplinary scenes for BDSM scenes (think holding a stack of books in front of the body at arms length, but… for the vagina…).
I hope that this gave you some things to think about when considering what Kegel exerciser to buy, C.
Thanks for writing!
— The LSOP Experts
Interested in appearing (anonymously) in the Ask LSOP section of next month's newsletter? Submit your questions about relationships, sex, adult toys, or lingerie, and our team of sexperts will find you the answers! Email your questions to [email protected] with the subject header "Ask LSOP".