Jamie talks about Calgary's swinger clubs and offers his review of Club Rendezvous. Photos courtesy of Club Rendezvous (thank you!)
Recently, the topic of swinging came up during the morning show on a local news network. The slip-up prompted an on-air discussion with radio personalities and their listeners about what exactly their idea of swinging and swingers clubs were. To many people swingers' clubs are a strange and mysterious place full of 70's moustaches- something dirty for only the truly deviant and depraved that is hidden away in dark allies or under ground. My job has me representing LSOP at all kinds of events and venues, and after doing some reconnaissance while working events hosted by local swinging lifestyle clubs, I feel like I can confidently dispel some of the myths that came up in their show.
The clubs I visited were not in someone's garage (with the bottom two feet of the door left open as a secret signal), nor were any of them in the back of a sketchy porn shop. There were no cacti outside the front door to alert the neighbours that the people inside were looking to swap partners. None of the events were a massive orgy free for all, nor did they give the impression of being a place to have anonymous sex with strangers before disappearing into the night. And of the three I visited, not one had a fish bowl.
For several months over the last year, Little Shop of Pleasures hosted a mini pop-up shop at Club Rendezvous. Club Rendezvous is Calgary's longest running swinging lifestyle club. The business has recently transferred ownership, and along with updating the building with some pretty major renovations, the new owners are working on expanding the business and improving the guest experience with new events and community partnerships like our pop-up shop.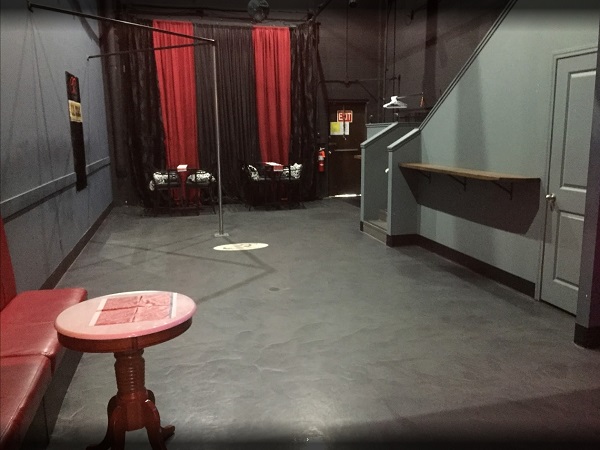 The dance floor space, complete with a pole.
Each night that I go I'm always pleasantly surprised to sit around long beer hall style table they have talk to the members about what brings them to a swinger's club and what got them into the lifestyle. The answers vary from person-to-person and couple-to-couple, but the most common response is that they love their partner and find sharing that love/lust with others is a big thrill.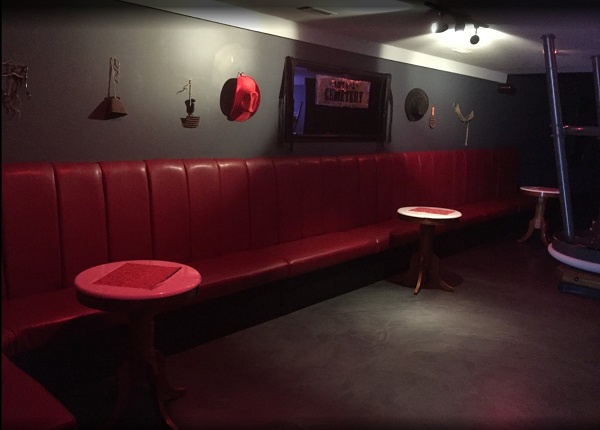 An open seating area, complete with western-themed decorations for their annual Stampede breakfast.
The age range of attendees is varied, from some fresh faced college students to couples that have been together for decades, and what they get up to at the club is just as varied as well. Some people are there looking to make connections for a future meet up, while others are looking to share intimate times with each other that night. One couple I talked to said that they just wanted to go out, dance, drink, and be around other adults in a non-night club/bar setting. Another bashful couple said they just like having sex where people can watch and had no immediate plans to open their relationship to others joining. It's apparent right from the moment you walk into the club that sex is on the menu, but only if that's what you want to order.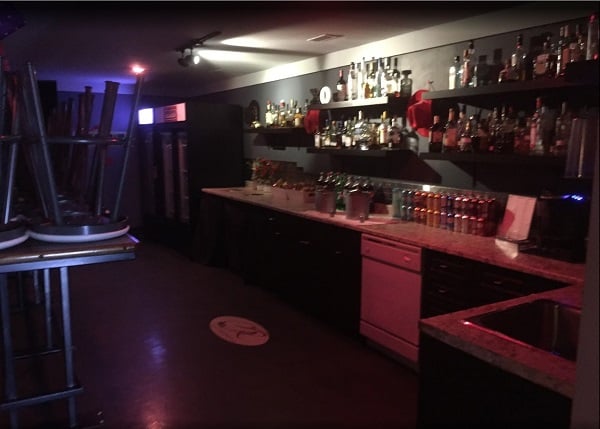 The accessible bar area of this BYOB private club, where guests can prepare their own drinks.
While the club is set up with an upstairs play area (which is kept clean throughout the evening), the downstairs has a relaxed "kitchen party" vibe to it, where you are able to relax, have some beverages, and make new friends. The owners and hosts provide club tours to those attending for the first time, help with introductions to people who have been coming to the club for a while, and work very hard to keep the attendees comfortable. The club's website allows attendees to check out what party themes are coming up, and who is coming to a particular event. Club R is a great way for singles and couples to introduce themselves to the lifestyle in a pressure-free and comfortable environment. Overall, it's a great place for those who are new to the lifestyle to connect to those who have already had some experience!
We here at Little Shop have only praises to sing about Club Rendezvous. If you've ever been interested in the lifestyle, or even if you just want to see what the club looks like, there are lots of opportunities to visit, including during special events like Naked Girls Reading and Smut Slam, to which the club lends their space. To see what events Club Rendezvous has coming up, check out their website.