There are a lot of upsides to a strapless strap-on, and one downside: gravity.
I love my strapless strap-on, but after a while it just falls out. How can I stop gravity from ruining the moment?
Ah yes, our age old nemesis: Gravity. The one thing that's truly trying to keep you down.
For those of you who are not aware, a strapless strap-on is a wearable double dildo. They can be stationary or vibrate, and can vary from hyper realistic to abstract. The benefit of this type of strap-on is more sensation and a better physical connection to the movement of the phallus for the wearer than they might get with a typical strap-on. Strapless strap-ons are L-shaped, with a bulb at the shorter end of the toy that is designed to insert into the vagina or anus and be held in place with the Kegel muscles- in theory, at least. Those who find it hard to keep one in place are definitely not alone. Even with a pelvic floor of steel, movement, position, weight of the toy, and the shape of the wearer's body on the inside and out can make holding one of these toys a herculean task.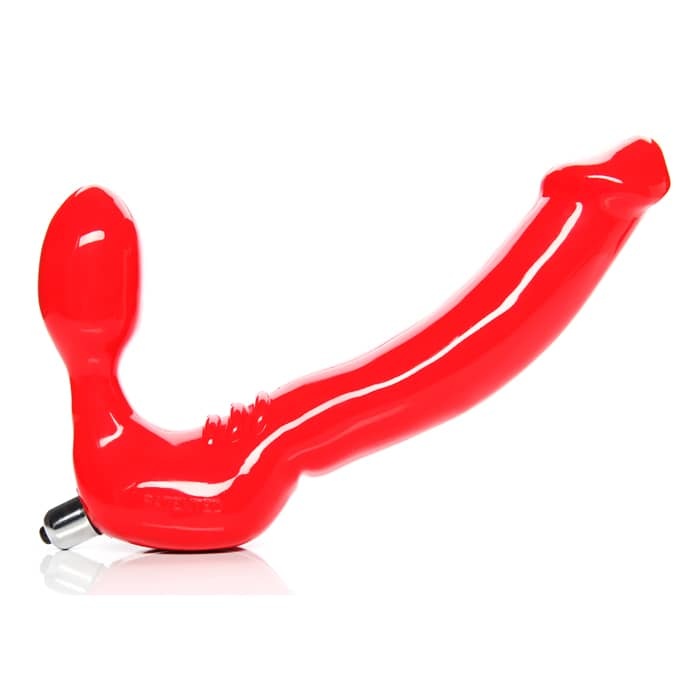 The Tantus Feeldoe is one of the earliest versions of this type of toy. The red model is the "More", the second largest of four sizes.
Adapt a classic strap-on harness
The easiest way to solve this problem is to wear a harness with an open front. The shaft of the toy can be threaded through the O-ring, supporting its weight, while keeping the bulb inserted in the vagina.
You can quickly and easily convert your existing  harness into an open front one by removing the pad behind the O-ring. If that seems like too much effort, many brands make harnesses with a hole cut in the centre front for this exact situation.
The front panel of many four-point harnesses can be removed temporarily to make it a perfect support for a strapless strap-on.
Use an underwear harness.... or your underwear
If the idea of wearing something with straps defeats the purpose of a strapless strap-on for you, an underwear-style harness might be more appropriate for your needs.
Putting on this type of harness is as easy as stepping into them and pulling them up, and This increasingly popular style of harness is made in a variety of cuts and colours and are characterized by built-in O-rings.
A strapless strap-on (the Fuze Tango) fits perfectly through the open front of an underwear harness.
A fall back to this style of harness is that the ring is stitched into the front of the garment, and can not be switched to accommodate a thicker dildo, so before you invest in one, make sure that it is built to accommodate your strapless strap-on.
Alternatively, a pair of snug-fitting Y-front underwear can serve the same purpose!
Get swole
If you are determined to go completely strapless, you might need to do some strength training. Kegel exercises can help you gain the strength required to keep the bulb in place... or not. Like I said, there are a lot of reasons why holding one of these without a little help won't work for everyone, no matter how strong their pelvic floor is. But there are a lot of benefits to maintaining a healthy pelvic floor, so it's worth it to try!
Pelvic floor exercises can be done on their own by clenching and releasing the Kegel muscles; they can also be done with the aide of
Kegel balls
. With consistent practice, much like going to the gym, you will see gradual results.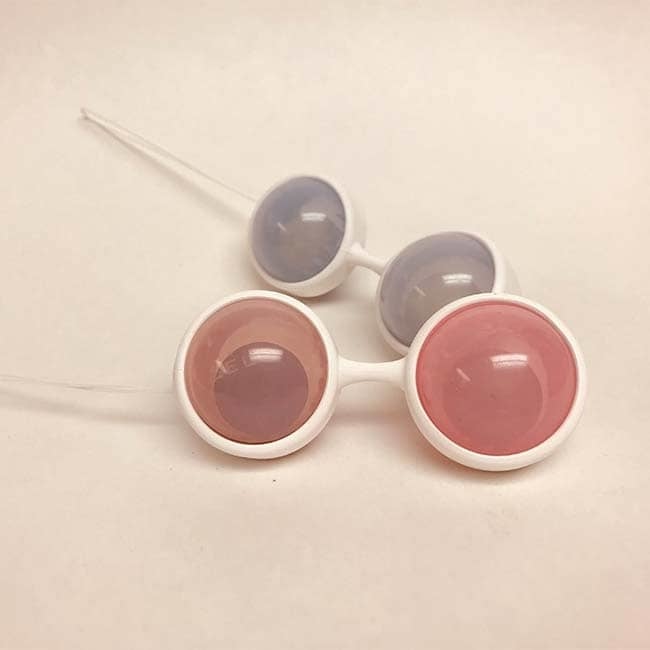 LELO Beads kegel exerciser sets come in different sizes and have interchangeable weights that can be used to adapt your exercise routine to your specific needs.