The following is the full Ask LSOP #16 question and answer, featured in the Little Shop of Pleasures June 2017 newsletter.
Dear Sexperts,
I'm a 20 something gay guy in a new relationship, and the height difference between me and my boyfriend is already causing issues in our sex life. He's an impressive 6'10" and I'm a compact 5'3", so with almost a foot and a half difference between us we find it hard sometimes to make things work in the bedroom or around the house. I would love to get it on in the kitchen over the centre island, but getting out a foot stool to get behind him is just a mood killer. We also have problems with oral as I have to strain my neck just to reach his package. The height difference is killing our new relationship buzz! Please help us out.
- - Travel Sized Boyfriend
Dear TSB,
Congratulations on the new relationship! It's normal to feel annoyed, embarrassed, or discouraged when the easy-breezy sex we want to be having isn't coming naturally. You're not the first couple to encounter issues with height difference when it comes to sex positions, and at Little Shop of Pleasures we are well-versed in helping couples deal with the inconveniences that can result from mismatched statures.
If you haven't done this already, the first thing you should do is talk about this with your boyfriend. Let him know that you're feeling frustrated. If he's interested, agree to set aside some time to experiment, with the shared goal of finding some positions that you can both enjoy. It may lack spontaneity, but with both of you on the same page this process could be a fun, lengthy, love-making session with breaks to laugh, talk, and negotiate the next thing you want to try.
It can be a serious mood killer when your favourite positions and classic moves aren't working with your new beau, but variety is the spice of life, so fuck it up and try something completely different! If you're out of ideas, find a good position book or do a little Googling.
To combat neck strain when giving your vertically gifted partner head, try doing the deed with him seated. He still gets that awesome view of you on your knees in front of him, but with the added bonus of you not tapping out early to book an appointment with your physio therapist. Experiment with different sized chairs (an office chair with adjustable height could be perfect for this), the bathtub, or an ottoman. Or maybe have him try kneeling with you sitting flat on your butt.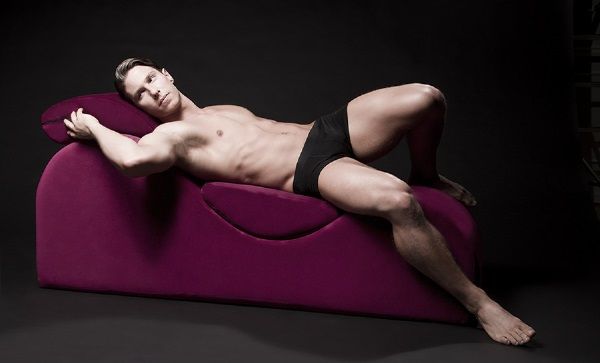 Have you looked into position aids? We're big fans of Liberator. They make fantastic products like the Wedge, the Ramp, and the Esse that can be moved around the bedroom (or house, in your case) to adjust the angle and height you experience your passion in.
We're sure that you two will get the hang of it, but remember: if at first you don't succeed, add another squirt of lube and try again.
-- The LSOP Experts
Interested in appearing (anonymously) in the Ask LSOP section of next month's newsletter? Submit your questions about relationships, sex, adult toys, or lingerie, and our team of sexperts will find you the answers! Email your questions to [email protected] with the subject header "Ask LSOP".