The following is the full Ask LSOP #14 question and answer, featured in the Little Shop of Pleasures April 2017 newsletter.
Dear LSOP Experts,
I'm thinking that I want to get a toy for prostate stimulation, but I'm pretty new to both sex toys and anal play and I have just started out. What is the best beginner's prostate toy for a guy like me?
-B
Hi B!
If you've already started experimenting even a little with prostate stimulation without toys, you've got a leg up on other p-spot newbies. Masturbation and self pleasure are always beneficial to our sexual (and overall) health, but it's also a great way of determining what kind of toys will work best with our bodies. You're hopefully starting to get an idea of what kind of prostate stimulation your body likes- but if you're still trying to figure that out, I'll give you some things to consider.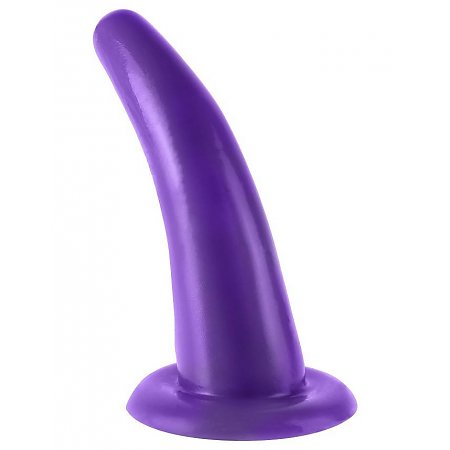 When you stimulate the prostate do you do it externally from the perineum, internally through the anus, or a combination of the two? If you don't plan to insert the toy, a normal bullet vibrator used against the perineum could do the trick, while a toy designed to be safely inserted in the anus is a must for internal stimulation. Any toy with a suitable safety base, like the Anal Fantasy Collection Vibrating Reach Around, should do the trick this is what we like to call a 'set and forget' kinda toy. Similar to anal plugs once this toy is inside you use your internal muscles to 'rock' the toy back and forth inside your body.
Another option is something like the Dillio - Anal Teaser. It is a more 'active' toy because it is intended for multiple insertions over and over pressing up onto the prostate each time it's inserted. Something small makes for a great beginner's prostate toy.
Once you've determined what kind of stimulation you're looking for, consider whether or not you would like the toy to vibrate. Vibration can intensify the sensations of pressure, fullness, or movement, but it isn't necessarily for everyone. You can also find toys that have moving parts making a 'come hither' motion like the Lelo Loki Wave.
Interested in appearing (anonymously) in the Ask LSOP section of next month's newsletter? Submit your questions about relationships, sex, adult toys, or lingerie, and our team of sexperts will find you the answers! Email your questions to [email protected] with the subject header "Ask LSOP".